Autumn Home Maintenance Must-Do List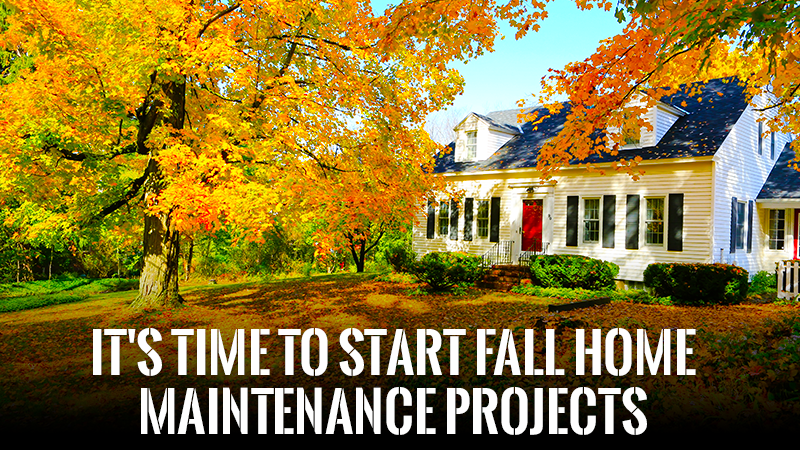 Summer is winding down and Autumn is just around the corner.  Take advantage of the longer days and warmer weather and get started on your Fall home maintenance to-do list now!
Check for peeling paint on the exterior of your home.  Don't ignore it!  If paint is peeling or blistering, it's a sign that it is no longer providing a protective covering for your siding, which can leave it vulnerable to damage that will cost you dearly in the future.  This doesn't mean you have to repaint the entire house though.  You can repair the damaged areas and save yourself a lot of grief and money.

Clean your gutters.  Clogged gutters are a major source of wood rot problems and pest infestations.  Make sure downspouts are clear and joints and brackets are in good working order.  If they are damaged, replace them

Make sure windows and doors are sealed properly. Caulking and sealing is an inexpensive way to protect you home from the elements.  It also saves you money by preventing heat from escaping during the colder seasons.  Check your weather stripping as well. Replace it if it is damaged.

Take a good look at your roof.  Make sure there are no missing or loose shingles. Avoid having to deal with a leaky roof during the first snow by preemptively repairing any problems

Get your fireplace and/or wood stove ready.  If you have a wood burning fireplace, have a professional come out to clean your chimney. Making sure your fireplace/woodstove are in good working order is crucial for home safety.
Check these home maintenance projects off your list now and you can enjoy your Fall weekends in your cozy, warm house!