How to Get Out of Debt and Buy a House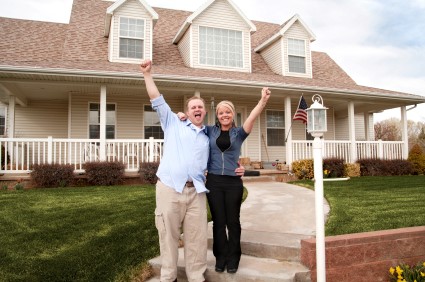 As a real estate agent, I love helping people purchase their first home.  However, there are two major challenges that I see time and time again with first time home buyers:
They often carry too much debt.

They don't have enough cash for a down payment.
These two issues are strongly related in that people need to reduce debts that inhibit them from saving money.
We all know that we shouldn't spend more than we earn, but falling into the debt trap is easy to do.  You see a pair of boots that you must have and you think, I will use my credit card now and pay for them with my next paycheck.  It sounds reasonable at the time, but next thing you know you've done something like that often enough that there is a beastly credit card balance hanging over your head.
So, now you're in debt.  You have regrets, but no use doing the "should have, would have, could have" dance.  Now it's time to move forward and take the steps needed to reduce your debt.  Here is a list of things to do to change the way you manage your money.  Follow these steps and before you know it you will be on your way to saving for a down payment on your first home!
Stop adding to your debt. The first step to getting out of debt is to stop adding to your outstanding balances. To remove temptation, carry only one credit card with you…and make sure it is the one with the lowest limit so that it is impossible to get into serious trouble with it.  Leave any other credit cards in a safe place at home to keep yourself from going on an impulsive shopping spree. 
Take an inventory of your spending habits. This may not be a fun activity, but it is helpful to see how you are spending.  Create a list of where your money goes each month including rent, utilities, car payments, food, credit cards etc. Once you have done this, split the list into two categories: bills you always have to pay every month and debts you need to pay off.  The second list then can be organized in order of urgency, either based on outstanding balance or highest interest rate.  Now you will have a clear picture of your debt situation. Inventory of Finances 
Eliminate the largest debts first. Make a minimum payment for each of your credit card bills, but then make an extra payment on the bill that is at the top of your list. Do this monthly until that bill is paid in full.  Now take the money you were using for that bill and start applying it to the second item on your list.  Continue this until all of them are paid off. 
Cutting expenses and making the payment.  If you are already in debt, how are you going to find money for an extra payment?  Well, some sacrifices will have to be made.  Cutting back on extras like trips to Starbucks, entertainment and eating out can free up cash that can go toward that extra payment each month.  40 Ways To Save on Monthly Expenses
Prepare for the Unexpected. Sometimes life is a struggle and unexpected challenges such as car repairs or medical expenses will pop up from time to time.  As you cut expenses and start to save money, set up an emergency savings account just for these occasions.  That way you will be prepared and won't have to use a credit card and add to your debt.
Lower your interest rates. Give your credit card company a call to see if they will lower your interest rate. If they say no, shop around for a card with a lower rate and transfer your debt (be careful of transfer fees to make sure the transfer benefits you). You can also seek out a consolidation loan from your bank. They will pay off your debt and you can pay them back at a lower interest rate. How To Lower Credit Card Interest Rates
Stick to it!  As you see your debt decrease and see your cash increase, don't fall back into old spending habits. As you have more money available, put it right into your savings and soon you will have the money you need for a down payment on your first home!