Protect Your Home from Fire: Four Surprising Fire Hazards
It is estimated by The National Fire Protection Association that over 47,000 home fires reported to fire departments are caused by some kind of electrical failure as a trigger to ignition.  But there are some other unusual ways that fires can start that we should all be aware of.
Dishwashers
While you may be aware that overheating dryers or ovens can cause fires, you might think dishwashers are safe because they have water. And water puts out fires…right? Wrong!  Dishwasher fires can be caused by liquids coming into contact with the machine's wires.  Serious damage can occur when fires are ignited in dishwashers.  According to a 25 year veteran of the New York City Fire Department, any appliance that powers a motor, heating element, or both always has a higher risk for fire - and dishwashers are a common example.  He advises that they never be turned on when going to sleep or leaving the home.
Jars and other glass objects
According to survivalists, one of the best ways to start a fire is to use a piece of glass to refract sunlight onto dry wood.  Without proper care, that same scientific process can happen on your own kitchen table.  In 2015 a fire broke out in a southwest London home because of sun rays reflecting through an empty Nutella jar, the Associated Press reported.  While it may seem to be an freakish way for a fire to start, the fire brigade's investigative unit confirmed that the glass jar was to blame.  The chances of this happening in your home are slim, but it is important to remember to never store flammable liquids like gasoline, cleaning fluids, paint thinners and even cooking oils in glass jars that you intend to leave out in the sunlight.  Metal cans for commercial-use flammable liquids and plastic containers for things such as cooking oils are safer options.
Rodents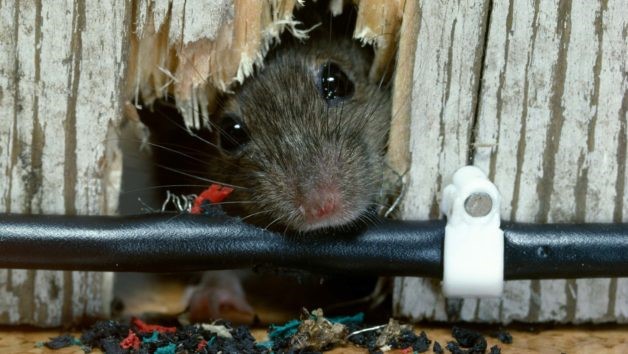 Small rodents like squirrels and rats like to burrow into your attic insulation in cold weather and chew anything they can get their teeth on, including rubber covered electrical lines.  Unfortunately, if electrical wires become exposed dud to their protective insulation being compromised, there is a likelihood of igniting a flame.  The key to preventing this from happening is to keep the critters out to begin with. Before winter season, make sure all vents are covered, holes are patched and cracks are sealed.
Laptops
If you have ever had your laptop computer in your, well, lap for an extended period of time, you know that they get hot.  Because of this, it is a bad idea to leave one sitting on a flammable surface such as bedding, furniture or carpet.  But the real culprit behind laptop fires is the lithium in the batteries.  A poorly made battery can overheat and burst into flames.  Recently the Samsung Galaxy Note 7 smartphones were recalled because they were catching on fire and it was the lithium batteries that were the problem.  Any device powered by lithium ion batteries should be shut off when not in use and stored away from any flammable items.