Staging Your Home with Young Children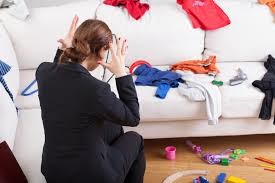 You have placed your house on the market and now it's time for potential buyers to come and look at it. Keeping it clean, tidy and ready to show can be challenging in the best of circumstances, but even more so when you have young children.  Here are a few staging tips for keeping your house ready for last minute showings while making it attractive to buyers at the same time:
Begin by removing any excess toys and clutter.  Cumbersome toys like play kitchens and picnic tables take up a lot of space and can made a room look crowded and smaller than it is - so it's a good idea to put these in storage while you are trying to sell.


 
Allow your children to pick out a few favorite toys that can be easily stored inattractive containers when showing the house.  Choose an option that makes tidying up quick and easy.  Store all other toys out of sight.
 
Potential buyers like to be able to see the house as they would have it. So, remove kids' art work from the refrigerator and convert the playroom into amulti-purpose room. For example, you can stage the playroom as an office by adding a desk and chair, or as a den by adding a small sofa.  That will make the room more appealing to buyers without children.
 
Consider a fresh coat of paint, especially if you have colorful rooms that were painted to appeal to your little ones.  Not only will the new paint cover finger-prints and marks on the walls, but choosing neutral colors for all the rooms will help sell your home more quickly and easily.
 

Don't forget that the outside of your house is the first thing potential buyers see.  Keep outdoor toys to a minimum and make sure they are stored neatly.  You never know when buyers might be driving by and you don't want a bunch of toys to create and eye-sore that makes them hesitate to look at your home.