What Women Want - She Sheds!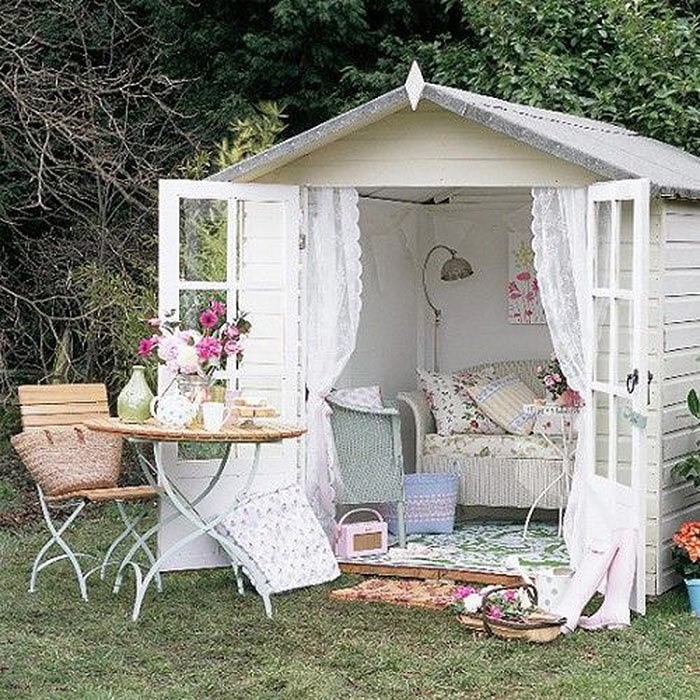 The she shed trend has arrived and it looks like it's here to stay. And really, what took so long?  Men have had their "caves" for years.  Women should have their own space to get away and unwind too!  Whether a she shed is used for relaxation and contemplation, watching chick flicks, or as a space for hobbies, it is a long overdue oasis for hardworking women who deserve a peaceful space to call their own.  If you're ready to create your own she shed, here are some ideas for you:
If you already have a backyard shed, you are going to need to clean it out.  Completely.  You will want a blank slate for designing your perfect environment.  Find new storage options for the items you are keeping and give away the rest.  If you don't have a shed, you can build one with an  easy-to-build kit purchased online or from a local home improvement store.
Show off your one-of-kind sense of style by giving your she shed a fresh coat of paint.  Choose colors that you love.  Do you want a rustic look, or do you dream of a storybook cottage?    The ideas for designing your personal retreat are endless.  Remember, it's all about YOU!
Think about what you want the purpose of your shed to be.  Will you use it as a peaceful sanctuary where you can curl up with a good book?  Perhaps you might set up an easel and use it as your art studio.  Whatever your intent, be sure to keep it in mind while coming up with your design. 
You don't have to spend a lot of money to furnish and decorate your she shed.  Search antique stores and flea markets for unique pieces.  The idea is to make it feel relaxed and cozy.  You might already have everything you need, but just needed a special place for it all. 
Choose a spot in the yard that takes you away from your day to day grind and makes you feel surrounded by nature.  Lush plants and window boxes full of flowers will give you a tranquil ambiance that will provide the calm environment needed for quiet serenity.
The most important thing is to make your she shed a reflection of yourself.  And remember…it's a woman's prerogative to change her mind, so as your interests and hobbies shift, your shed can transform with you and always be there to fulfill your needs and desires.